15 Nov

Black Friday & Cyber Monday Deals 2021

The year is nearly done, which means the wintery Christmas season is coming. On November 26th and November 29th, respectively, the Christmas season begins with Black Friday. The ideal time of year to buy new plugins, themes, tools, and services is during these few days. Companies are trying to offer the greatest Black Friday discounts available in order to attract more clients and give them more opportunities.

Do you require a new WordPress theme or hosting? Do you want to get your hands on some more premium plugins to help you improve your site? This is then the ideal time of year to purchase them. There are so many excellent deals around Black Friday and Cyber Monday that it is difficult to keep track of them all. So, in this article, we have collected for you a list of the greatest Black Friday deals for WordPress for you to choose from.

As we mentioned before, for millions of individuals, Black Friday represents the start of the Christmas shopping season which we know people really love. The Friday just after Thanksgiving is popular as Black Friday, and it is one of the most important shopping days of the year in the United States and around the world, falling between November 23rd and November 29th. The official date for Black Friday in 2021 is November 26th.

So, Black Friday and Cyber Monday sales are upon us, and this is without a doubt the ideal time of year to buy some useful items that you can utilize throughout the year. That also means different types of software and tools.

On the list below, you can find great plugins, themes, hosting packages, and services for a fraction of the price this Black Friday.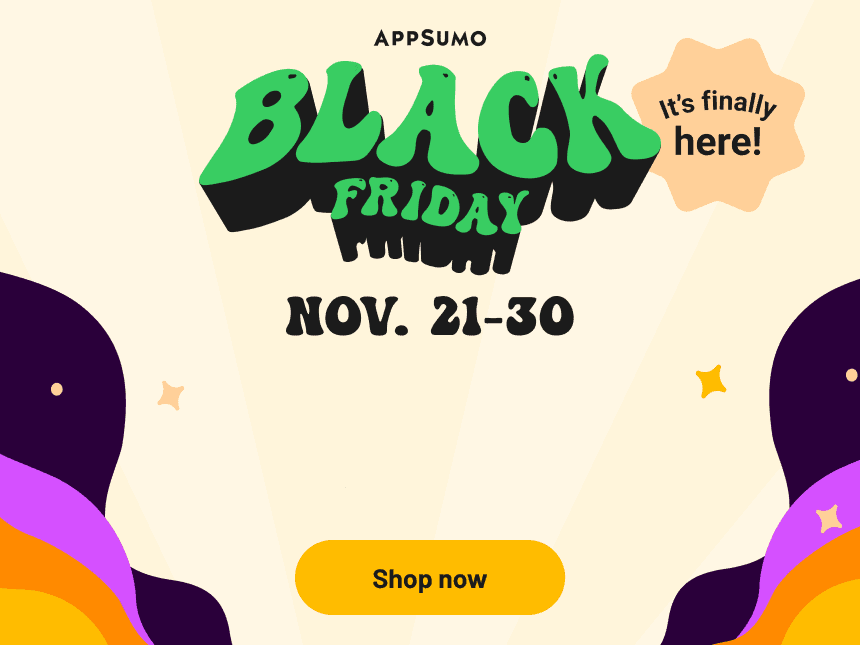 This is AppSumo's Black Friday 2021 star lineup. These epic tools will have you fighting away leads with a stick. You'll look up and wonder, "Where did all this business growth come from?" All for one ridiculously low price—a lifetime deal. Is this what dreams are made of?
Valid from November 21st, 2021 till December 30th, 2021
Name
Discount
Description
Valid From
Valid Till
Visual Composer Website Builder
50%

Get up to 50% OFF Visual Composer Premium! This Black Friday, you can build WordPress websites while saving money. New Visual Composer is a ReactJS-based website builder that allows you to create WordPress sites faster.

Nov 25th
Nov 30th
AmaLinks Pro
50%

AmaLinks Pro is a premium WordPress plugin for Amazon affiliates. Easily insert high-converting Amazon affiliate links without ever leaving your WordPress dashboard! Increase your Amazon affiliate commissions with linking options that are proven to convert.

Nov 26th
Nov 30th
exponent
30%

Exponent is a Modern Business WordPress Theme consisting of 33 Business Related Demos. It comes bundled with a Powerful Page Builder, Typography & Colour Plugins. Now easily start an online business with WooCommerce & let your success speak for itself.

Nov 26th
Nov 29th
spyro
30%

Spyro is a Leading landing pages builder WordPress theme that comes with 12 stunning pre-built demos. Now create custom marketing forms easily thanks to Tatsu Builder that comes bundled along with premium WordPress plugins at no extra cost.

Nov 26th
Nov 29th
scraper
25%

Scraper scrapes (copies) content and posts automatically from any website. It has many useful features that make the content creation process to another level. It can scrape content from 100+ popular sources. Comprehensive Documentation is also available.

Nov 26th
Nov 29th
hide my wp
50%

Hide My WP is a Leading Security Oriented Smart Plugin for WordPress. It consists of many Advanced Features that are necessary for the Safe Keeping of your Crucial Website Data and to Safeguard your Online Presence. Keeps Attackers & Bots at Bay.

Nov 26th
Nov 29th
projectopia
30%

Projectopia is helping thousands of freelancers and agencies to get their projects organized and set their communications clear. This powerful project management tool has all the features that you would require to run & manage your projects, tasks, & milestones.

Nov 26th
Nov 29th
responsive menu
25%

Responsive Menu Plugin came as a blessing for WordPress users, people with zero-coding knowledge can now build awesome website menus. Replace your old boring unresponsive menu with a mobile-friendly & Responsive Hamburger Menu.

Nov 26th
Nov 29th
quiz and survey master
25%

The Best Quiz Plugin of WordPress, Quiz and Survey Plugin is popular for tons of customization options. Though the base plugin is free and highly popular, QSM has 34+ Pro Addons for building Advanced Quizzes, Surveys, Exams, Polls, Questionnaires, etc.

Nov 26th
Nov 29th
Formidable Forms
65%

Formidable Forms is the most advanced form builder and no-code application builder for WordPress

Nov 22nd
Nov 30th
Solwin Infotech - 50% Off
50%

Solwin Infotech creates beautiful themes and feature-rich plugins for WordPress website users. We are offering a flat 50% discount on all WordPress plugins and themes.

Nov 16th
Nov 30th
MainWP
50%

A Free, Open-source, & Self-hosted one-stop solution for Agencies, Developers, & Freelancers who want to manage Unlimited WordPress websites from a single dashboard.

MainWP is the most loved WordPress manager plugin having 2000+ ⭐⭐⭐⭐⭐ reviews on WP.org.

Nov 4th
Nov 30th
Outreach.buzz Lifetime Deal
80%

OutreachBuzz's purpose is to help people connect with bloggers to publish and promote their content, increase their traffic, and reach the highest ranks in search engines.
They offer more than 3500 curated websites, crucial information about each website, etc

Nov 25th
Dec 2nd
Monetization Consulting Service - 25% discount
25%

If you own a website or you plan to start one, Daniel can help get clarity, identify a good niche, create a strategy, give answers to your questions or doubts, and fix monetization issues. Daniel increased traffic, leads, and revenue by at least 35% for website owners, just like you.

Nov 25th
Dec 2nd
Native article on Monetize.info - 25% discount
25%

Native articles, in a nutshell, are advanced sponsored posts. A native article on Monetize.info that will advertise your business will generate traffic, SEO juice, and sales for years to come and without any risk. We offer a 25% discount on orders. Use coupon code: BFCM2021 to activate the discount.

Nov 25th
Dec 2nd
WPVR - Virtual Tour Creator
30%

With WPVR, you can easily create stunning virtual tours for your real estate properties, showrooms, stores, hotel rooms, and any other physical location for your WordPress website.

This Black Friday, you'll get:

30% Discount on Annual Plans
25% Discount on Lifetime Plans

Nov 22nd
Nov 30th
Product Feed Manager for WooCommerce
30%

With WooCommerce Product Feed Manager, you can easily create accurate WooCommerce product feeds to promote on 170+ popular marketplaces.

You can easily create dedicated product feeds for every marketplace in minutes, which includes Google Shopping, Facebook Ads, Kelkoo, Amazon, eBay, Instagram, etc

Nov 22nd
Nov 30th
Discount Rules for WooCommerce
30%

Best dynamic pricing and discount plugin – create simple to complex discounts easily in a minute.

Nov 16th
Dec 3rd